The creation of the ritual and sculptural objects used both at home, in a Synagogue or other public spaces, is an important facet of my metals practice.
In 2018 I was commissioned to create the Eternal Light for the Ann Arbor Reconstructionist Congregation of Ann Arbor in time for the High Holidays. I was inspired by the forest, and how the interplay pf the trees and light create depth. I created copper trees and sculptural forms and layers of copper in an asymmetrical arrangement. The bare trees are lit from behind through frosted Plexiglas flanked on each side by sculptural fold formed panels of etched, heat treated copper set into a cherry base.
My intention was to treat light as an emanation, as if coming from an unseen source. The first light -the light of creation-is something we could not have witnessed, but we can experience how light begins to glow and illuminate the world as the sun rises.
The light offers hope, the promise of a new day and the world being born anew; rekindling our connection to divine presence.
First used in 2018 for High Holiday service, it is now part of the collection of the Ann Arbor Reconstructionist Congregation. "Forest Dawn" was recognized with a Jurors Choice Award in the 2018 Lewton-Brain Fold Forming Competition.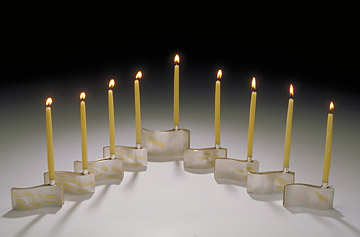 For the Menorah Exhibition, I created "Sparks of Renewal", a nine-piece Menorah with 18k gold "flames" rolled into the sterling surfaces, each with the number of flames for each night of Hanukah. The pieces can be arranged in various patterns, offering a creative and participatory experience for those who use it. Private Collection.
The act of giving charity, of Tzedakah, is an important component of Jewish observance, and a Tzedakah box is used to collect money for a weekly donation. This Tzedakah box, "Spirit of Tzedakah" is crafted of roller printed sterling, 18k gold, with a tourmaline and quartz stopper. The box accepts coins through the top when the stone is removed, and money can be removed through a bayone closure at the bottom. Intersecting lines and six points of the star visualizes the dynamic action of Tzedakah.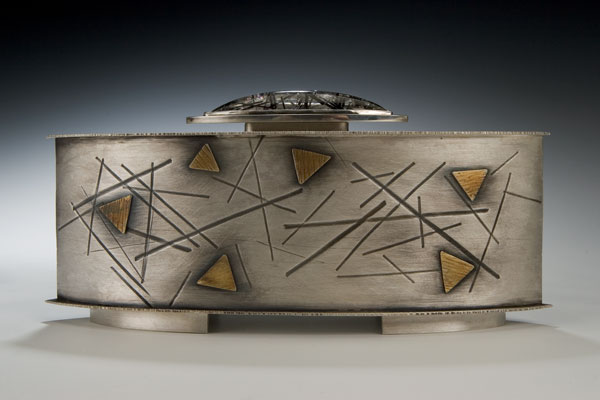 Other Judaica I have created include Mezuzah cases, Torah Pointers and Kiddush Cups. One special Mezuzah design is the "Twelve Elements" Mezuzah, featuring 12 gemstones and gold accents for the Twelve Tribes. The Yads, or pointers were commissioned for gifts to a Rabbi, a tutor, and for the Ann Arbor Reconstructionist Congregation.2
It is a special privilege to be commissioned to make ritual art and jewelry that will become part of a family observance or a beloved community. For special projects large or small, please contact me to design a custom piece.
Idelle Hammond-Sass, 2020